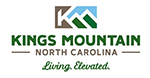 City of KM will distribute free masks Thursday
The City of Kings Mountain will be giving away 15,000 free face masks on Thursday, August 27 from 9 am – 3 pm in a drive-thru event at the Patrick Senior Center located at 909 E. King Street in Kings Mountain. Gaston County had surplus masks and offered them to the City of Kings Mountain through an allotment from the North Carolina Department of Health and Human Services.

"The Mayor and City Council appreciates the opportunity to partner with Gaston County to distribute these face masks to help protect our citizens from COVID-19," said Kings Mountain City Manager Marilyn Sellers. "The safety of our community members is our top priority."

Individuals, churches, community groups, nonprofits and small businesses are encouraged to get face masks to help slow the spread of COVID-19. 

Since March 2020, Kings Mountain has had more than 350 people test positive for the Coronavirus. Wearing a face mask when you are in close proximity to other people is one of the precautions that health officials recommend, along with social distancing and hand washing.

"Last week, we distributed 5,000 face masks donated by Uniquetex in Grover to hundreds of people who needed masks for themselves and their family members," said Tabitha Thomas, Patrick Senior Center Director. "Since then, we have heard from more people who need masks, so we appreciate having more masks to provide to the community."

Individuals will get a minimum of five masks per person. These masks are available to anyone who needs them. If you are with a group, you can get a larger quantity of masks, while supplies last. If you are a group leader and can pick up masks at the Patrick Senior Center before Thursday, please call 704-734-0447.