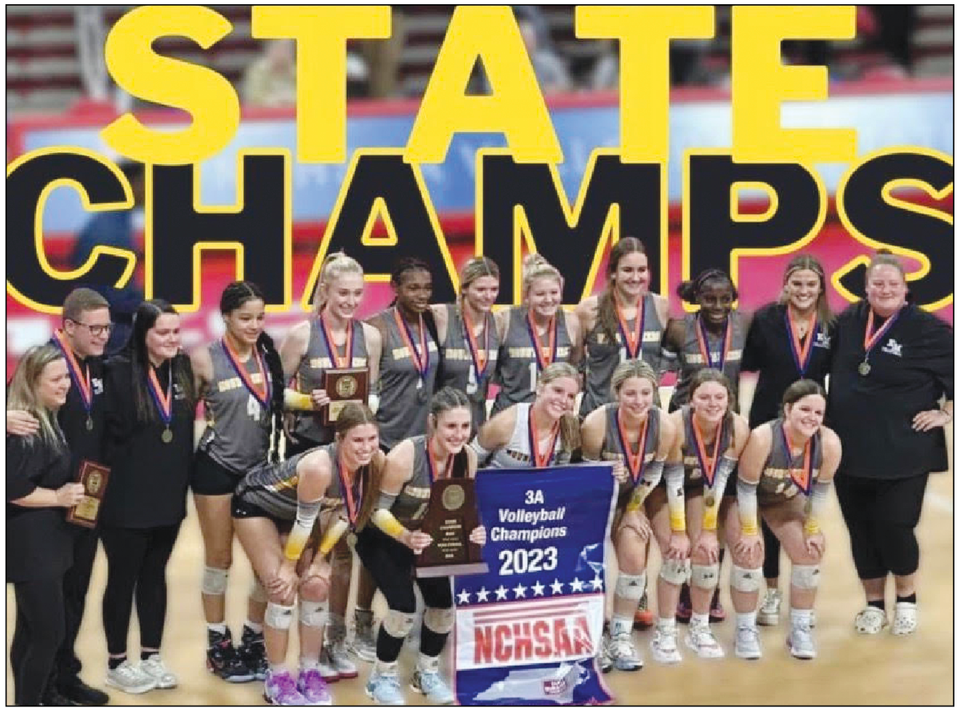 Hang another banner on the Parker Gym wall,
KMHS volleyball team wins state championship
Kings Mountain High's women's volleyball team won the NCHSAA 3A state championship Saturday with a tough 25-12, 25-27, 20-25, 25-21, 15-12 victory over Orange at Reynolds Coliseum in Raleigh.
The Lady Mountaineers finished 34-1 overall after winning the Big South Conference championship with a perfect 14-0 record. The state championship was KM's third in history with the others coming in 1998 and 2001.
Senior Meile Songaila completed a good four-year career by winning the Most Valuable Player award. KM's Mary Grace Hogue and Orange's Ella Wimsatt received NCHSAA sportsmanship trophies.
"Songaila had a very good tournament," said Coach Heather Pasour. "I thought our defense was on point and she really helped us out. We played great in the clutch and shut them down in the middle."
The Lady Mountaineers started off quickly with a 25-12 win in set one but the rest of the match was nail-biting time.
"We were pretty solid in the first set," noted Coach Heather Pasour. "In the second set they changed some things up and we lost 25-27 and 19-25. The fourth set we got off to a good start and after that it was back and forth. They had a very good team."
The victory capped off one of the most exciting seasons in KMHS volleyball history.
"We had eight in the starting lineup that had a very good game," Pasour noted. "Our only loss this year was to 2A state champion McMichael and we changed the lineup after that and made a complete turnaround."
Coach Pasour said the banners on the gym wall of the championship teams of the past was a better pep talk than she could have given.
"The girls have talked all year about winning the state," she said. "They'd see those two state championship banners and they said they wanted their pictures up there too. They were set on getting that ring. We wanted to be the team that will have their picture up there twenty years from now."
Pasour said she and the team are grateful for the community's support.
"We had a parade going out of town and a parade coming back in," she said. "It made the girls feel important to have that kind of support. We played with heart and a lot of intensity and showed sportsmanship."
The Lady Mountaineers finished the season winning 96 of 101 sets.
Kings Mountain punched its ticket to the state championship with a 3-1 victory over North Iredell 19-25, 25-22, 25-9, 25-10 in the Western Regional championship.
Meile Songaila had 27 serve receptions, 22 kills, three blocks, and 23 digs.
Jessie Osmore had 21 digs and 16 serve receptions.
Camden Pasour had 21 digs and 37 assists, Alexa Jones had 13 digs and 22 serve receptions, Ava Tipton 14 digs, Hogue 11 kills and London Brown six blocks.