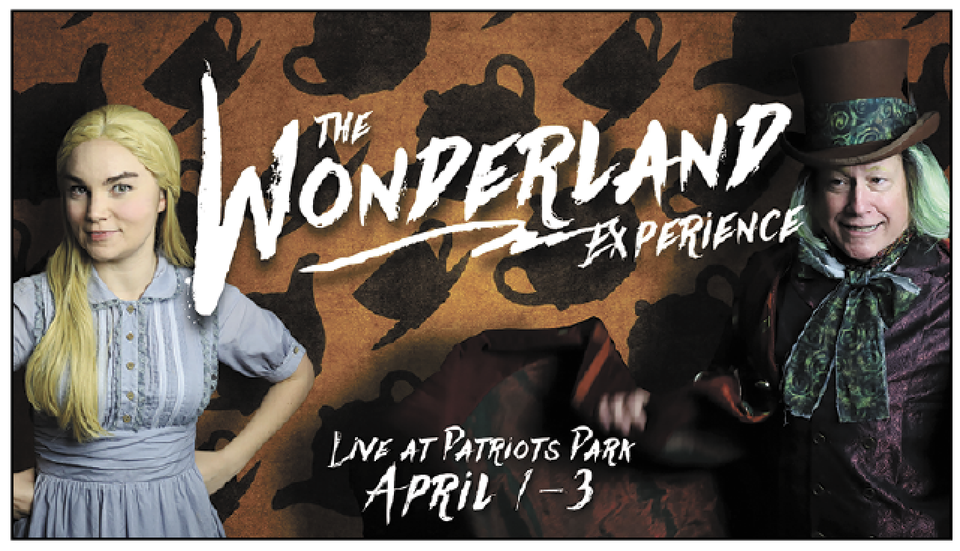 The Wonderland Experience live at Patriots Park
(March 10, 2021 Issue)
By Christy Conner
It's time to visit Wonderland! The City of Kings Mountain Special Events Department is excited to partner with Sigmon Theatrical to present The Wonderland Experience, an immersive, multi-sensory, intimate theater production where audience members literally walk into and through the world of Alice in Wonderland featuring live characters, interactive activities, breathtaking costumes and scenery, amazing circus feats, puppetry, special effects, and 360º immersive environments.
Fall down the rabbit hole (a magical tunnel with swirling lights) and meet Alice, the White Rabbit, Tweedle Dee & Tweedle Dum, solve a riddle by the Cheshire Cat, celebrate at a mad tea party with the Mad Hatter, and have a royal visit with the Queen of Hearts.
Guests can travel through the experience in their own group of family or friends, with a limit of ten (10) people per group. Tickets, with a scheduled departure time, are required to attend this event in order to reduce crowd size and maximize the guest experience. General Admission tickets are free of charge, and may be secured for your group at
www.KingsMountainEvents.com/Wonderland
. You can also upgrade your group to a VIP Experience for a small fee, including a souvenir photo, and a special gift that unlocks extra magic inside the experience.
The Wonderland Experience is a safe, socially distanced adventure for the entire family. Audience members will be required to wear face coverings, temperatures will be taken upon arrival, gloves will be provided to audience members to wear throughout the experience, all touch points will be sanitized between groups and a thorough deep clean will take place each evening, in addition to other safety protocols.
Experience Wonderland, Thursday, April 1 and through Saturday, April 3. The event begins each evening at 5:30 pm.
To learn more, and to reserve your experience today, call the City of Kings Mountain's Special Events Department at 704-730-2101, or visit the web at
https://www.KingsMountainEvents.com/Wonderland
.