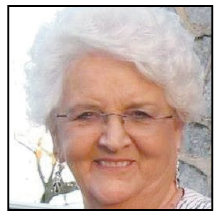 Shirley Ann Valentine
KINGS MOUNTAIN, NC – Shirley Ann Valentine, 87, of Kings Mountain, NC, passed away on September 3, 2023 at Caromont Regional Medical Center in Gastonia, NC.
Shirley was born in Cleveland County, NC, daughter of the late Joseph Edward Bumgardner and Evelyn Hines Bumgardner and was preceded in death by her husband of 69 years, Gerald Glenn Valentine, a son, Lyn Valentine and her brother, "Bud" Bumgardner.
Shirley worked for more than 30 years at Grover Elementary School as the school secretary. She enjoyed getting to know every student who passed through the doors and remembered those same students her entire life. She possessed a sharp intellect, was an avid reader and loved puzzles. She was a wonderful mother, grandmother, and great grandmother. Her love and memory will be cherished for a lifetime by all those who knew Shirley.
She is survived by her sons: Jerry Valentine (Phoebe) and Bruce Valentine (Beth); daughter-in-law: Terri Valentine; grandchildren: Casey Burgess (Chase), Kelly Maxwell (Wes), and Chad Jordan (Krystal); great-grandchildren: Landon and Piper Burgess; sister: Maxine Black.
Graveside services were held on  Thursday, September 7, 2023 at 11:00 AM at Oakview Baptist Church Cemetery with Reverend John Bridges officiating
Interment was held in Oakview Baptist Church Cemetery, Kings Mountain, NC.
In lieu of flowers, donations in Shirley's memory may be made to Hospice Care of Gastonia, NC at 258 East Garrison Blvd., Gastonia, NC 28054.
Guest register is available at:
www.harrisfunerals.com
.  
Harris Funeral Home and Cremation Services, Kings Mountain, NC is in charge of arrangements.