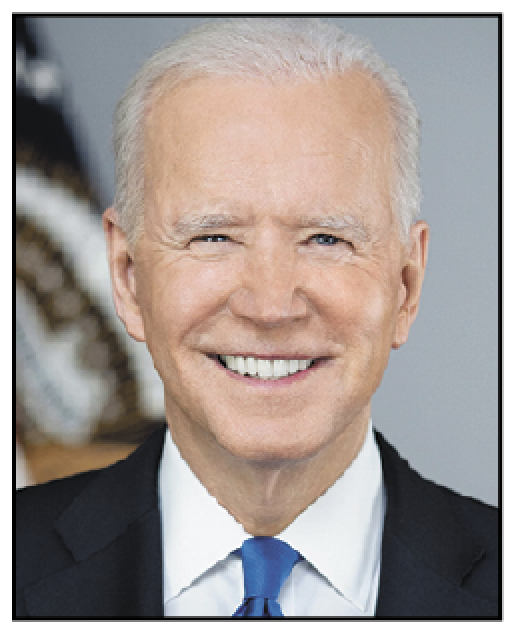 President Biden's path out
of the Pandemic Action Plan
By Loretta Cozart

President Biden signed two executive orders on Friday, with sweeping rules to requiring federal employees be vaccinated against COVID-19. One might infer from their titles, "Executive Order on Ensuring Adequate COVID-19 Safety Protocols for Federal Contractors" and "Executive Order on Requiring Coronavirus Disease 2019 Vaccination for Federal Employees," that these executive orders only apply to federal employees, but that isn't the case.
These new executive orders also impact many citizens who do not work in federal agencies. The orders require that private employers with 100 or more workers will have to require them to be vaccinated or tested weekly. Employers must provide paid time off for vaccination. In addition, about 17 million health care workers in hospitals, clinics and other facilities that accept Medicare and Medicaid payments must get vaccinated. Some 300,000 employees of Head Start early childhood education and other federal education programs must get vaccinated.
President Biden said, "The Safer Federal Workforce Task Force (Task Force), established by Executive Order 13991 of January 20, 2021 (Protecting the Federal Workforce and Requiring Mask-Wearing), has issued important guidance to protect the Federal workforce and individuals interacting with the Federal workforce.  Agencies have also taken important actions, including in some cases requiring COVID-19 vaccination for members of their workforce,"
"Accordingly, building on these actions, and in light of the public health guidance regarding the most effective and necessary defenses against COVID-19, I have determined that to promote the health and safety of the Federal workforce and the efficiency of the civil service, it is necessary to require COVID-19 vaccination for all Federal employees, subject to such exceptions as required by law."
The president also committed the federal government to follow through with money for widespread testing in schools.
Biden also urged governors to require vaccination for school district employees. He also urged stadiums, concert halls and other venues for large events are urged to require proof of vaccination or negative COVID-19 test.
Booster shots for COVID-19 require FDA approval, which has not yet occurred. Until that time, Federal agencies will lay the groundwork for a smooth booster shot campaign as early as Sep. 20, or when the Food and Drug Administration approves them.
Be aware that mask requirements will continue for interstate travel and in federal buildings. The Transportation Security Administration (TSA) will double fines on airline, train, and other travelers who refuse to wear a mask.
Free COVID-19 testing will be expanded to 10,000 pharmacies and Walmart, Amazon, and Kroger will offer at-home COVID-19 tests at cost, about a 35% savings for consumers.
Militarily, the Pentagon will double military medical teams helping local hospitals overwhelmed with virus patients. To assist with those who contract COVID and are not vaccinated, Federal agencies will boost shipments of a COVID-19 treatment known as monoclonal antibodies by 50%. Medical teams will be dispatched to help administer the treatments.
   To assist small businesses, the top loan amounts for PPP loans will be increased to $2 million from $500,000 currently.
   OneDigital, a national health and benefits provider for corporations advises, "Employers should expect further clarification of these rules as regulations and guidelines are issued in the coming weeks, including effective dates and documentation guidance. It is unclear whether anticipated legal challenges will be successful and alter implementation. In the meantime, applicable employers should prepare to comply with the new rules and continue looking for updates on this emerging issue."
   Regarding mandatory vaccination of Federal Employees, President Biden said, "The Task Force shall issue guidance within seven days of the date of this order on agency implementation of this requirement for all agencies covered by this order." With that in mind, further instructions should be shared by September 17.
   On September 1, in accordance with North Carolina Executive Order 224, state cabinet agencies started requiring state employees to verify that they have been vaccinated, with consequences of weekly testing and required masking for not doing so.
   The Order authorizes and directs State Health Director, Dr. Betsey Tilson, to issue a statewide standing order to expand access to monoclonal antibody treatment, which if taken early can decrease the risk of severe disease, hospitalization, and death. Administrations of monoclonal antibody increased 73 percent during the last week of August as compared to the week prior.
   Governor Cooper said, "We know that keeping kids learning in the classroom is the most important thing for our students right now. Getting vaccinated, wearing a mask in public indoor settings, and following the science is what we need to do. The faster we put this pandemic behind us, the sooner we can all rest easy and stay healthy."
   In the meantime, many Republican governors have vowed to push back on mandatory vaccinations. In a Twitter Statement, Gov. Greg Abbott of Texas called the actions an "assault on private businesses," and he issued an executive order protecting Texans' right to choose to be vaccinated. "Texas is already working to halt this power grab," he wrote.