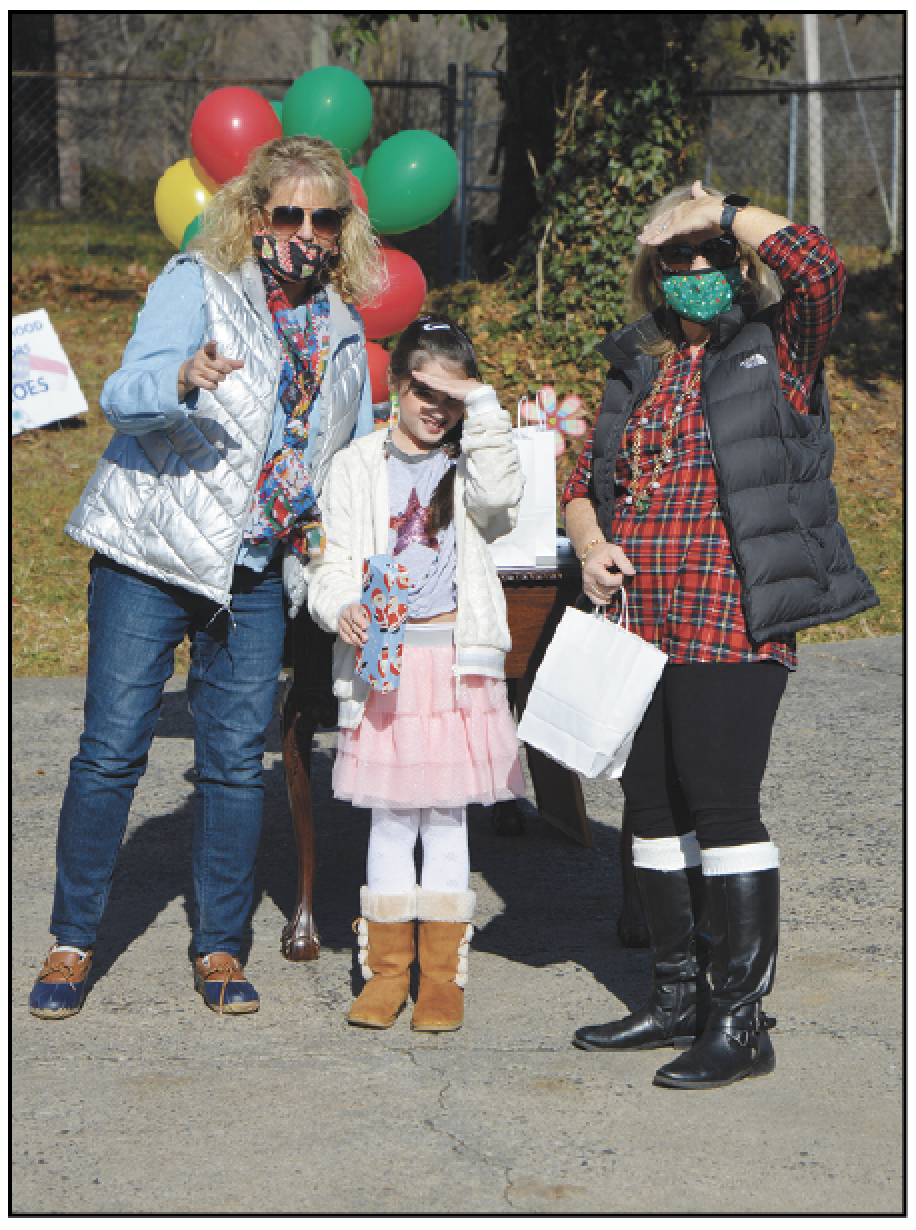 Bolin's Daycare
50th birthday
(January 30, 2020 Issue)

By Loretta Cozart

Bolin's Daycare celebrated its 50th birthday the last Saturday before Christmas. Their anniversary should have been held in September, but with COVID-19, things got pushed back. Jeff and Kelly Bolin celebrated the daycare's birthday party outdoors in the parking lot and on the grounds of their daycare.
Tables were filled with gift bags packed with goodies for the first 50 guests. There were games, crafts, and activities for the entire family. Some folks just came by to reminisce and take a walk down memory lane.
Photo books were placed on tables, with images of young children, now grown, spanning a half century. Games of life-size Jenga, corn hole, and a cake walk kept kids and their parents busy. Crafts filled tables as young and old gathered to create items to take home. Cupcakes and refreshments filled tables.
Santa even dropped by for a quick visit before Christmas. Kids climbed into Santa's lap to share their Christmas wishes with Santa, wide-eyed in awe and wonder.
Students, now parents, bring their children and grandchildren to Bolin's Daycare. One grandmother shared that her grandson had terrible separation anxiety and could not stand to be away from his immediate
family. "If someone he did not know looked at him, he would just scream. We brought him to Bolin's and he absolutely loves it here. We often leave and he never even realizes we are gone. It is a huge success for him," she said.
"Daycare is a lot more than just babysitting," said Kelly. "Bolin's Daycare is very structured with a focus on preparing children for Kindergarten. Everything we do, from birth to age five prepares them for that."
   In 1970, Barbara Ellen Bolin and her husband, Herman, lived two blocks away at 705 Ramseur Street. They had just completed construction of a new home on Cansler Street and decided to open a daycare in their basement. They had three children: Cindy, David, and Jeff. Jeff was just a year old.
Eventually, the Bolin's business outgrew their space, so they moved the daycare back to their house on Ramseur Street. In 1978, the Bolin's bought the current property across from North School and built a facility that can accommodate 98 students. The 74 Bypass took their property, and they needed a new location. Now Jeff and Kelly own the daycare.
Bolin's Daycare is a special place, as evidenced by all who gathered to share this milestone with the Bolin family this last Saturday before Christmas. The Bolin's love traditions and have kept them going for 50 years. "Every Friday, children visit the office and get a piece of candy and Friday is also Hot Dog and Chili Day," Jeff said. When asked the secret to their chili, he replied, "It is so simple…" Kelly quickly interrupted, saying, "The chili recipe is a highly classified secret," and they both laugh.