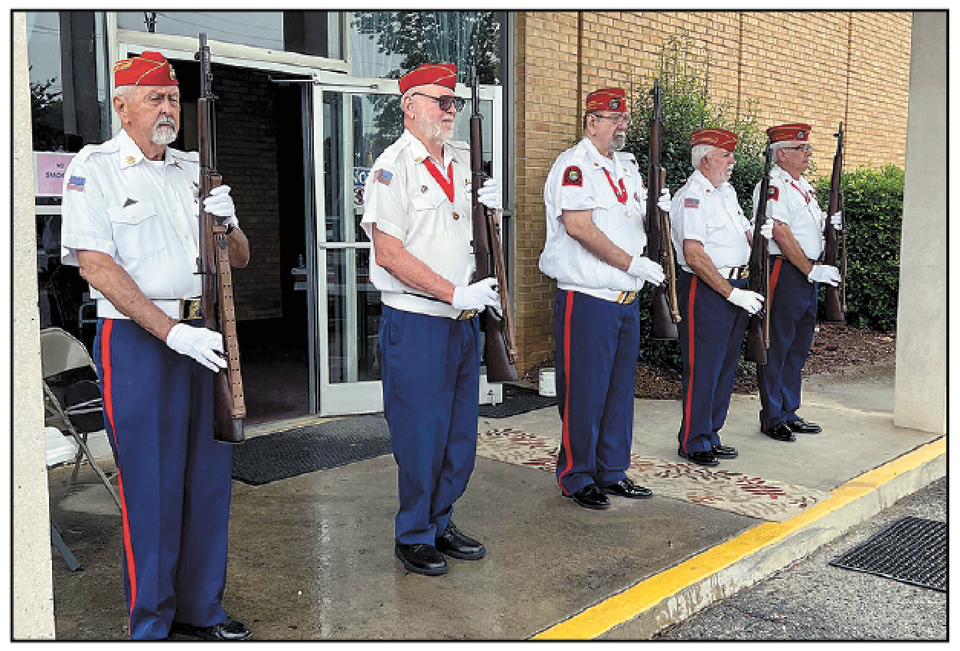 Memorial Day Observance
held in Kings Mountain

By Loretta Cozart

City of Kings Mountain held its Memorial Day
Observance on Monday, May 29 at American Legion Post 155 located at 613 E. Gold Street at 10 a.m. Due to rain, the observance was taken indoors.
The event began with a Piper Prelude by the Loch Norman Pipers, followed by the Presentation of Colors by Boy Scout Troop 92 Honor Guard. Dr. John Howze, Pastor of People's Baptist Church offered in Invocation. Pastor Gabriel Thombs lead those gathered in the Pledge of Allegiance. Vocalist Sharon Robbs sang the "Star Spangled Banner."
Mayor Scott Neisler welcomed everyone and reminded them of the importance of remembering those who have been lost in battle while in the service of the United States of America.
The Keynote speaker was Jim Sherman, U.S. Army, Commander, American Legion District 23.
Dale Brittan and Dale Saxon performed the Ballad of the Green Barret. And Jim Medlin, U.S. Staff Sergeant, USAF, 1967 – 1971, followed reciting A Toast to the Flag.
"A Toast to the Flag" was a poem penned by journalist, John Jay Daly. John Day was a poet, drama critic and newsman, who worked for the Washington Post. He wrote this now famous poem early in his career and it was published in 1917.

A Toast to the Flag
Here's to the red of it:
There's not a thread of it,
No, nor a shred of it
In all the spread of it
From foot to head,
But heroes bled for it,
Faced steel and lead for it,
Precious blood shed for it,
Bathing it Red!

Here's to the white of it:
Thrilled by the sight of it,
Who knows the right of it
But feels the might of it
Through the day and night?
Womanhood's care for it,
Made manhood dare for it,
Purity's prayer for it
Keeps it so White!

Here's to the blue of it:
Beauteous view of it,
Heavenly hue of it,
Star-spangled dew of it —
Constant and true.
States stand supreme for it,
Diadems gleam for it,
Liberty's beam for it
Brightens the Blue!

Here's to the whole of it:
Stars, stripes and pole of it,
Body and soul of it;
O, and the roll of it,
Sun shining through;
Hearts in accord for it,
Swear by the sword for it,
Thanking the Lord for it,
Red White and Blue!
   Afterward, Brittan and Saxon performed "He Ain't Heavy."
   Vietnam Veterans of Kings Mountain did Thirteen Folds of the Flag, and American Legion Post 155 presented a wreath, followed by TAPS being played by Marine Corps League 1164.
   Loch Norman Pipers presented a Piper Interlude during the Retrieval of the Colors by Boy Scout Troop 91. Closing remarks were given by Mayor Scott Neisler.