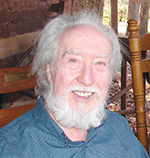 Charles Jerome "Jim" Spivey
CHARLOTTE, NC – On July 7, 2020, Jim Spivey passed away peacefully at home at the age of 92, ushered into his Lord and Savior's presence to join his beloved wife, Butch. He was born on September 10, 1927 in Kings Mountain to Margaret Jane Stowe Spivey and Weaver Jerome Spivey. After a childhood in Kings Mountain and in Charlotte, Jim returned to Kings Mountain and graduated from Kings Mountain High School in 1945.
Jim entered the U.S. Merchant Marine service in 1945, and sailed between 1945-1947 to the Mediterranean, the Caribbean, to South America, and to the Netherlands. 
Jim attended Gardner-Webb College and received an Associate's degree in 1949. Jim married Beulah Elizabeth Rhea of Kings Mountain on August 27, 1949 in Kings Mountain. They were married 70 years. 
Jim worked most of his career in the insurance adjusting and risk management fields providing risk management expertise to the city of Charlotte and Mecklenburg County and to other municipal and commercial entities. Jim earned a reputation as a well-respected, open and honest businessman, known to speak his mind and stand up for what he believed in. 
 He and Butch were active members of the Carmel Baptist Church in Charlotte since moving there in 1968. He and Butch enjoyed many travels in the North America, Europe, the South Pacific, Australia, and the Caribbean. 
Jim was ever-generous, loyal, disciplined, kind, stubborn, organized, honest, persistent, dedicated, passionate, and faithful. He was described by a friend as an exemplary Southern gentleman. He was a patriot, proud of his country, and grateful to God for the long life he lived, and hopeful that what he did with the time he was given on earth was done for good. 
Jim is preceded in death by his wife, Beulah Elizabeth Rhea "Butch" Spivey (1930-2019). He is survived by his six children, Jerry Spivey and wife, Jane, of Baton Rouge, Louisiana, Karen Spivey Dallas and husband, Walt, of Cary, North Carolina, Greg Spivey and wife, Helen, of Nichols Hills, Oklahoma, Jeff Spivey and wife, Jeanie, of Kings Mountain, North Carolina, Dana Spivey Mims of Charlotte, North Carolina, and Stowe Spivey and wife, Pam, of North Carolina, 11 grandchildren, and 16 great grandchildren. Jim and Butch were always very proud of their family.
Jim and Butch will be buried at the Mountain Rest Cemetery in Kings Mountain and a grave side internment will be held there at 10 AM on July 18, 2020. Family will receive friends at 1 PM at McEwen Funeral Home - Pineville Chapel, 10500 Park Rd., Charlotte, NC 28210 on Saturday, July 18, 2020, and a Memorial Service will be held there beginning at 2 PM. The Memorial service will also be available as a VIRTUAL service linked at the Facebook link on the McEwen website to be viewable live or as a recording.
In lieu of flowers, donations may be made to: Carmel Baptist Church Missions in Charlotte, Gardner-Webb University, Jim and Butch Spivey Dramatic Scholarship at Gardner-Webb University, or to Gideon's International.
For full obituary and condolences, visit 
www.mcewenpinevillechapel.com
.