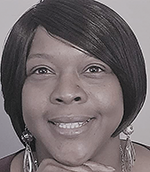 The Life God Gives You
By Loretta Cozart
Shaquia Jimson was born in 1979, the daughter of Kenneth Wayne Jimson and Grace Ann Watkins Jimson. Within 10 months, her mother would be dead at her father's hand and the family broken apart. Grace Ann's daughters were fathered by different men, so each daughter was sent to be raised by those families. Shaquia was 10-months old, her sister just two.
The story of her mother's murder made headlines in Cleveland County and the region in 1980, and Shaquia said, "That story has always loomed over me. As I got older, I decided to learn more about what happened that caused this tragedy. My father was a military man. My mother was only 18 and didn't finish high school," Jimson said. "My grandmother orchestrated my parent's marriage, but they were so young they didn't understand what marriage really meant."
Prior to the marriage, Shaquia's grandmother would sell Grace Ann to men for money. "My mom was between 12 and 13-years old when that began. I've come to realize that what my mother experienced was nothing less than sex-trafficking. And I suspect the same may have happened to my grandmother. I think it was multi-generational. After marriage, my mother experienced domestic violence from my father," she said. "They had a very volatile relationship."
"When I was 10-months old, my father locked my sister and me in a shed out back of my grandmother's home in the Compact Community and killed my mother. Then he set fire to the house." He was charged with first-degree murder and arson.
"What I try to do after learning all this is to bring awareness to single parenting. No matter whether the children are raised by their mother or their father, it isn't fair to the children. There aren't many helpful resources for single parents available. Single parents have to think
of their children first and be aware of their decisions in life. They should ask themselves if they are making a choice for their children or for themselves?"
Today, Shaquia Jamison is a certified Life Coach and owner of Overcoming Bondage, LLC. She wrote the book, The Life God Gives You, to honor her mother. "Once I learned the story, that my mother was only 18-years old when she lost her life, I wanted to do something in honor of her. She was too young, and the situation too tragic, for her to be forgotten.
As a Life Coach, Shaquia specializes in dealing with the pain in life. "I started my own business to help people overcome the things that hold them down. No matter what we are bound to, God has a purpose, he has a plan for each and every one of us," she said.
"People should humble themselves and let God be who he is. I am a witness that he can open up doors no one can shut. I am a product of not having parents. So, I know if he did it for me, he will do it for anyone else."
"In helping others, I try to transition the hurt to joy, because joy is something God gives us, not man. I try to stick that joy to a person's soul so they can understand it is something nobody can take from them. "God gives us hope and motivation as an avenue to transition from where we were to what we want to become," Shaquia said.
"Everyone has room for better, but we can't become better until we deal with the pain."
Shaquia Jimson's book is available on Amazon and Barnes and Noble. "My next book is due out in late September, The Devil's Plot vs. God's Plan."
www.overcomingbondage.com
shaquiajimson@gmail.com
In her personal life, Jimson has three grown children, "My youngest is 21-years old, two boys and a girl. In raising them and in my life I have ended the multi-generational curse on my family." She took the lessons learned from her parents and now helps others. "I reach out to lots of people and have no stipulations to receive my services," she said.