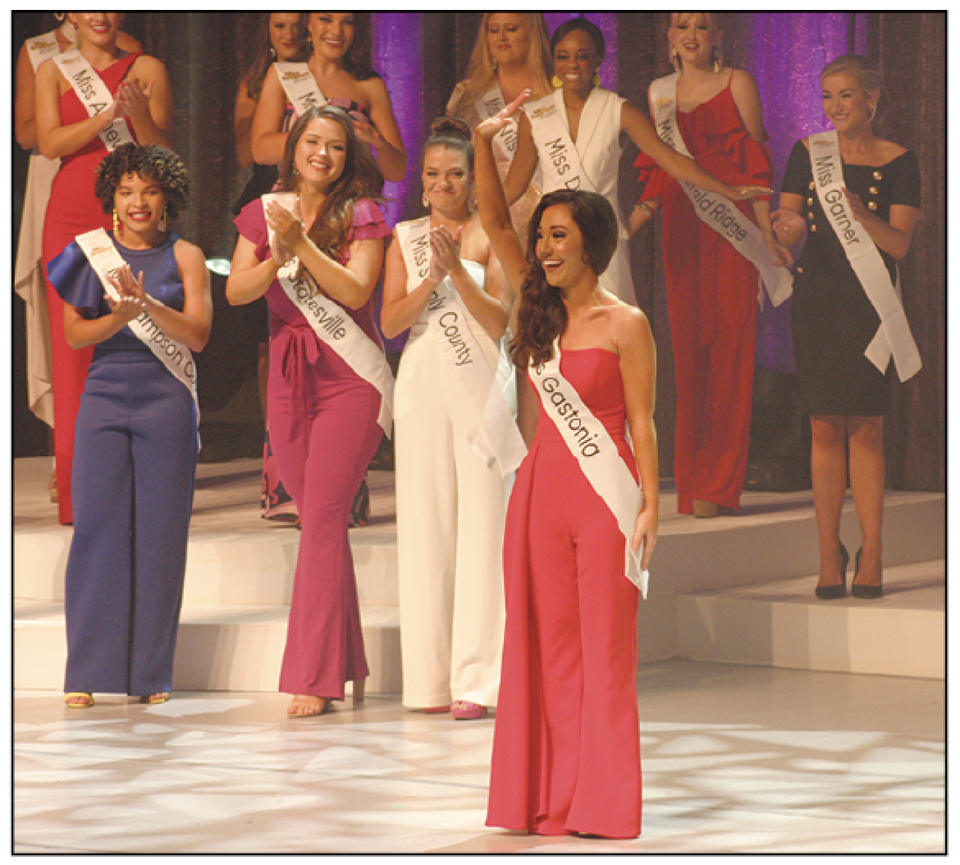 Crest music teacher takes her place in the spotlight on
the Miss NC stage
Julia DeSerio,
the reigning
Miss Gastonia,
finishes in the
top 10

by TODD HAGANS
Special to Community First Media

Julia DeSerio, the chorus and piano teacher at Crest Middle School in Shelby and reigning Miss Gastonia, was a top 10 finalist in the recent 2021 Miss North Carolina competition.
Through her participation in the Miss Gastonia and Miss North Carolina programs, DeSerio, 24, has won more than $10,000 in scholarship money. Earning the scholarships moves her closer to being debt free after receiving a music education degree in 2018 from Gardner – Webb University.
"I want to thank the people who have invested their time, love, advice, resources, wisdom, and encouragement so I could represent my community in a successful way," said DeSerio.  "Being involved in the Miss Gastonia and Miss North Carolina organizations has made me into a version of Julia that I never knew I could be."
DeSerio said serving as Miss Gastonia has given her the chance to become a local celebrity, make connections in the community, and promote the importance of the fine arts. Young women like DeSerio, who live in Cleveland County, are eligible to compete in the Miss Gastonia/Gaston County/Mount Holly competition, which serves as the area's qualifying program for Miss North Carolina.
"Being able to represent the Gastonia community has been so special," said DeSerio, who sang "Memory" in Italian for the talent competition. "In addition to winning scholarship money, being in the spotlight, and having the opportunity to compete for Miss North Carolina, I have grown as a person and gained so much through this experience. It really has changed my life."
As Miss Gastonia, DeSerio has promoted her "Art: The Highest Form of Hope" program that emphasizes the importance of music and the fine arts. In addition to being an advocate for the arts and speaking about how music influenced her life, she organized music programs for children and youth, conducted virtual talent shows to showcase the artistic abilities of others, and awarded a $1,000 scholarship to a student planning to pursue a music/arts degree in college.  
The Miss North Carolina pageant provided plenty of suspense for the area's representatives. In addition to DeSerio reaching the competition finals, Miss Mount Holly Anne Marie Hagerty and Miss Gastonia's Outstanding Teen Keelie Jones were among the top 10 with Jones finishing as the third runner-up in the Outstanding Teen division and Hagerty being named the first runner-up to Miss North Carolina.
Carli Batson, a 21-year-old ballerina from Wilmington, edged out Hagerty for the state crown and the opportunity to advance to the Miss America pageant in December. In the teen competition, 17-year-old Harley Tilque of Charlotte emerged as the winner and gained the opportunity to advance to Miss America's Outstanding Teen in Orlando.
Other contestants with connections to the Gaston area include Miss Gaston County Mariana Linares; Miss Gaston County's Outstanding Teen Lexi Foy; Sophia Kellstrom of Kings Mountain, a former Miss Gastonia who competed this year as Miss Mecklenburg County; and Belmont's Maddy Wilson, who competed as Miss Charlotte.
Collectively, Gaston County's titleholders earned more than $30,000 in scholarships by participating in the local and state programs.
Sixty-seven young women from across the state competed in the pageant, which was held June 24-26 at the High Point Theatre in downtown High Point. It marked the first time in more than 40 years that the event was held outside of the state capital.  Raleigh Memorial Auditorium had been the pageant's home before the move to High Point.
Gaston's five pageant winners have had an extended reign because of the pandemic. DeSerio, Jones, Linares, and Foy won their crown in November 2019, and Hagerty was crowned Miss Mount Holly in February 2020. When last year's state pageant was postponed and later canceled, the young women agreed to keep their title for another year. Although competing at Miss North Carolina technically marked the end of their reign, they have the option to continue making public appearances until their successor is crowned.
"We are extremely proud of the five young women who represented our local organization at the state competition," said Delores Cox, executive director for the Miss Gastonia Scholarship Association. "To have your titleholders win awards and scholarships is wonderful. You beam with pride when they get recognition in front of a statewide audience because the positive attention is good for our program and the community."
Cox said organizers of the annual Miss Gastonia/Miss Gaston County/Miss Mount Holly competition are focusing now on the next pageant, which will likely be held in January 2022. Young women ages 13-25 who live, work, or attend college in Gaston and surrounding counties may enter.
Contestant recruitment begins in September, and information will be posted on the Miss Gastonia website and Facebook page.