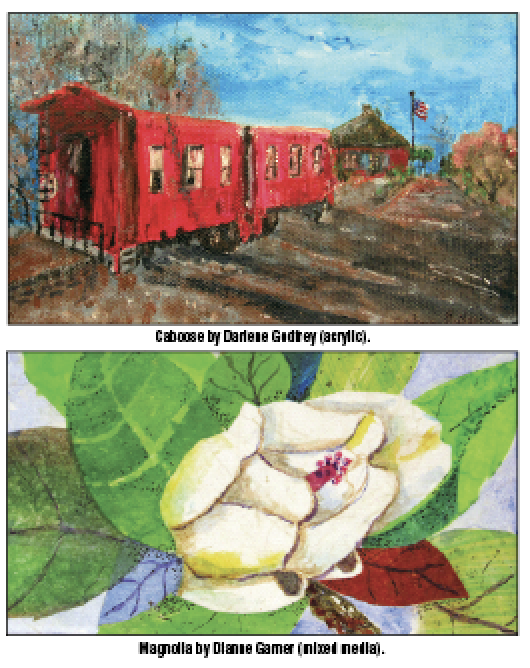 Small Wonders Art Exhibit opens Feb. 1
"Small Wonders" Art Exhibit and CompetitionExhibit run dates are February 1-25, 2022.The NEW Reception date will be Saturday February 5 from 6-8 pm.
Southern Arts Society proudly presents Small Wonders, a new art competition and exhibit open to all artists in the region. This is a judged art show with cash prizes ranging from $50 to a $250 first prize. Regional Artists are invited to show small scale works in a variety of media showing the difficulty and skill to create works of smaller size. (Image size limited to 5"x7" or smaller.)
Judge for the show will be Seymour Simmons III, a Professor of Fine Arts emeritus from Winthrop University, Rock Hill, SC, where he taught art education and studio art, primarily drawing. Prior to moving to South Carolina, he taught at Massachusetts College of Art and did research in arts education at Harvard Project Zero. He holds a B.F.A in printmaking from Colorado State University, as well as M. Ed. and Ed.D. degrees from Harvard. As an artist, he works primarily from the figure and landscapes in drawing and watercolor. His research focuses on the theory and practice of drawing instruction from ancient times to the present. His most recent publication on that topic is: The Value of Drawing Instruction in the Visual Arts and Across Curricula: Historical and Philosophical Arguments for Drawing in the Visual Age (Routledge, 2021). Early in his career, he co-authored with Marc S. A. Winer: Drawing: The Creative Process, (Simon and Schuster, 1977).
 2022 CALENDARS
SASi still has SASi 2022 Calendars for sale. Calendars are $30. Frames are available in Gold, Black, and Silver and are $30 each. Can't come in person? Call SASi to have your calendar shipped to you.
2023 CALENDAR PLANS
If you would like to design a calendar page for our 2023 Calendar, please come early to our FEB 1st SASi meeting at 6:30 pm. We will vote on a theme for 2023 and go over the design process. If you can't make the meeting, email us back and get your name on the list for a page.
WATERCOLOR CLASS Rescheduled
– Still time to sign up!!
 Introduction or Refresher into Watercolor Painting (An Interactive Workshop) with Ron Shepard
 NEW DATE: FEBRUARY 12, 2022
Time: 10 am - 1 pm
Location: Southern Arts Society
Supplies: Paper: please bring at least 5 (9x12) sheets of watercolor paper (Strathmore or Arches)
Paints: different hues of 3 reds, 3 blues, and 3 yellows, and a black
Brushes: what you have or #4, #8, and #10 (not so critical at this point)
**If you lack paints or brushes, SASi has some to share, but please bring your own paper
Description: Choosing the correct paints, painting techniques, choosing brushes, using watercolor paper, framing your painting. See class info sheet for more details.
SASi Programs
Feb 2 – SASi Program – Jan Welborn will lead us making Felted Animals. Please RSVP so we can have a head count for supplies. SASi will provide the supplies. If you have your own supplies for felting, you can bring them.
And please wear a mask. - 7 pm, doors open at 6:30.
Come early at 6:30 pm if you want to sign up to do a Calendar Page for 2023!
Shutter Light Photography Group
 Jan 11; Feb 8, Mar 8 – The group meets the 2nd Tuesday each month at 7 pm. All levels of photographers are welcome to attend their monthly program. Special time is set aside each month for questions from beginning photographers.
Special Planning Meeting
– at Big Red's Cafe in Kings Mountain at 8 am on Tuesday February 1. We will be discussing and planning on how to move forward with the club.  Contact Club organizer Nelson Stegall at
nelson@nelsonstegallphotography.com
with questions or visit their Facebook page.
Color Pencil Group Meeting
Jan 27; Feb 24 – Thurs – Anyone with a desire to learn more about color pencil is welcome to attend these meetings. All levels of artists are welcome, no prior experience necessary. Meetings are held on the last Thursday of each month from 6 - 8 pm.
Attendees are encouraged to bring something to work on, and feel free to share any product, resource or other info that may be beneficial to the group. Please email Todd with your ideas for meeting topics and techniques you would like to see.
Thursday Morning Open Studio Sessions
Jan 6, 13, 20, 27; Feb 3, 10, 17, 24  – Thurs – Open Studio Sessions every Thurs 10 am - 12 pm or longer. Bring your current art project – painting, pastels, colored pencil, knit or crochet, etc., to work on. Fiber artists are welcome to join this group. No instruction — just time to create on your own and enjoy fellowship with other artists. Led by artist Darlene Godfrey.
CALL TO ARTISTS – I AM WOMAN COMPETITION
Artists get ready for our annual I Am Woman art exhibit and competition. We will take in artwork Feb 26-27, 2022. This is our annual exhibit dedicated to the feminine, and/or female perspective and point of view. All media will be accepted. Watch our website for the prospectus.
ART TRACKS
February 2022
Feb 1 Tues – SASi Program - Jan Welborn will lead us making Felted Animals - 7 pm, doors open at 6:30, 2023 Calendar Meeting at 6:30.
Feb 3, 10, 17, 24 – Open Studio Sessions Every Thurs 10 am - 12 pm or later
Feb 5 Sat – New Date Reception Small Wonders Exhibit & Comp 6-8 pm; Awards presented at 7 pm
Feb 8 Tues – Shutter Light Photography Group Meeting - 7 pm
Feb 12 Sat – An Introduction or Refresher to Watercolor with Ron Shepard $$
Feb 16 Wed – Currently on Hold – Knit & Crochet Group Meeting 10:30 am
Feb 24 Thurs – Color Pencil Group Meeting 6:00 pm
Feb 25 Last Day for Small Wonders Exhibit Pick up work Feb 26-27, 2022
Feb 26-27 Deliver Art for I Am Woman art exhibit & competition $$
Deliver Art Sat Feb 26 from 11 am to 4 pm and Sun Feb 27 from 1-4 pm. Please deliver art on scheduled dates or earlier during gallery hours.
Events FREE unless noted otherwise $$
Events may be impacted by the Coronavirus outbreak
Please check with SASi for cancellations and postponements
For more Information call 704.739.5585, email
southernartssociety@gmail.com
or visit Southern Arts Society website
http://southernartssociety.org