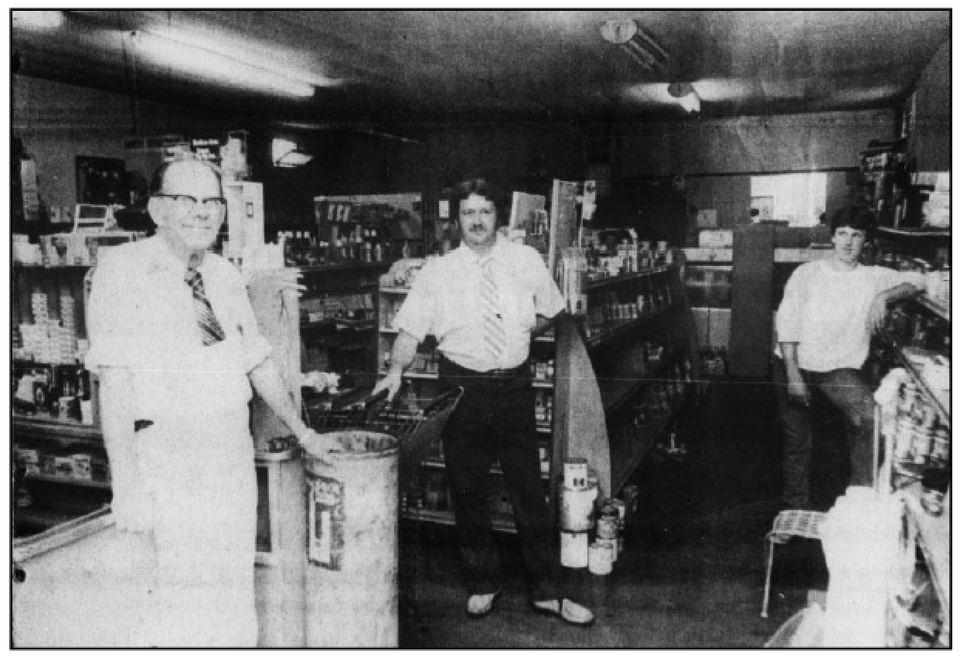 Roberts' Store was a
staple of life for many
Community and mill grocery stores were places folks in Kings Mountain shopped prior to bigger chain stores came to town. Even so, many of these stores thrived until the 1980s. The following article, written by Lib Stewart, is reprinted from a June 21, 1979, Kings Mountain Herald.
It was 1932 and the heart of the big depression that Gene Roberts joined his father in the operation of the family grocery business on North Piedmont Avenue.
That was 47 years ago when Roberts, now 70, was 28.
The familiar landmark will bow to changing times and the U.S. 74 Bypass of Kings Mountain. Roberts Grocery delivered the last load of groceries Friday.
Mr. Roberts, whose youthly appearance and wit, belie his age, speaks philosophically about leaving the site, only a block from his residence.
"I've always believed in accepting things as they are," he laughed, recalling the good times he had experienced in the white frame store and the "good people" with whom he had been in contact.
The price of groceries does not compare, of course, with today's prices but Roberts recalled how "times were hard" and it was just as difficult to have money in your pocket to buy pinto beans at five cents a pound, eggs at ten cents a dozen, fatback meat at five cents a pound, and gasoline at 17 cents a gallon.
Many of his first customers were credit customers who paid for groceries by the week or month. Some of the early purchases included cordwood, which sold for the unbelievable price of $5 per cord, and chickens and turkeys, your choice of live birds or dressed.
Many of his first customers were credit customers who paid for groceries by the week or month. Some of the early purchases Included cordwood, which sold for the unbelievable price of $6 per cord, and chickens and turkeys, your choice of live birds or dressed.
Ken Roberts, who started working in his father's store at about the same age that Gene started work in the old Cora Mill store at 14, recalls taking live chickens and turkeys from penned-in "coops' at the back of the store and dressing them while the customer waited.
Ken claims to have started working at age eight or nine, answering the phone for his father and making deliveries on his bicycle. He hopes to repay the favor in mid-July. Gene Roberts will be reporting to work for his son in a brand-new convenience store now under construction across from the KM Depot Center.
Bom on First Street in Kings Mountain, Roberts, son of the late Mr. and Mrs. John Ross Roberts and next to the oldest of four children, has lived only a short distance from his birthplace all his life. Roberts was away from Kings Mountain while attending Mars Hill College and worked in Charlotte for a food chain.
The stretch of North Piedmont Avenue which passes his store was a dirt road until 1936 when it was resurfaced by work crews from the Works Progress Administration of the state. Roberts recalled how the workmen used pick and shovel to clean out the ditches and were paid 12.50 per week, not with cash, but with food coupons. They came across the street to his store or went to other stores in the neighborhood to get their groceries. Roberts recalled that in the early days other grocers were Cora Mill Store, Lum Gantt's, which is now Pauline Store on Waco Road, B.A. Smith's where the In and Out Store is now on Cleveland Ave. (now Linwood Mart), and John and Doc Mauney's store which was located across the street from Smith's.
   For six days a week Gene Roberts opened every morning at 6 a.m. and closed on Fridays and Saturdays as late as midnight, on many occasions. Kenneth recalled that when he went to work full-time 16-years ago many folks preferred to do their shopping on Saturday, which was the only day they came to town.   Some customers took their families to the Saturday night movies and shopped for groceries afterwards.
   Gene and Louise Hambright Roberts were married April 12,1936. They are parents of five children, Kenneth, of Kings Mountain, David of Gastonia, Diane Roberts (Mrs. Sammy) Houston of Thomasville, Linda (Mrs. Ed) Talion of Columbia, S.C., and Glenn Roberts of Kings Mountain. There are seven grandchildren.
   The Robertses have long been active in Kings Mountain Baptist Church where Mr. Roberts is a deacon and teaches a Sunday School class.
   Over the years he has seen his business grow from a small beginning with very little stock into an expanded grocery store, both in size and in trade.
   If he had his life to live over, would he do anything different? Does he have any immediate plans for retirement?
   No, he enjoys the grocery business, whether its cutting meat, helping a customer, or sweeping the floor.  And he likes people, swaps stories with them about the "good ole days," and never meets & stranger. His sense of humor keeps him young.
   Mr. Roberts, who walks to and from work every day, expects to get in a little more walking when he moves several blocks down the street to the new location. It will be a brand-new experience because for the first time in 47 years Roberts will be working for someone else. In fact, a new generation of Robertses will be working in the new store. Sixteen- year-old Craig Roberts is following in his father's and grandfather's footsteps.