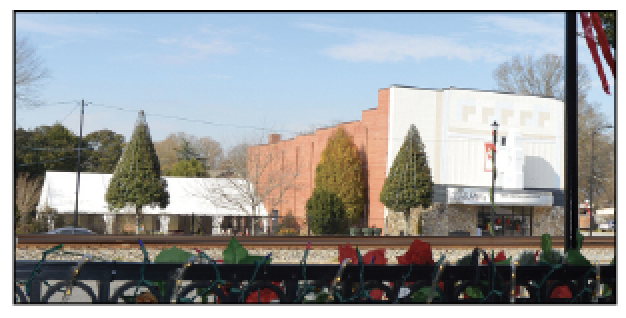 KMLT kicks-off 
Capital Campaign
Kings Mountain Little Theater, Inc., its Officers and Board of Directors, announces a Capital Campaign in support of their project to renovate the mail lobby and provide for the long-awaited expansion of the restrooms and concessions area of the Joy Performance Center.
KMLT and Project Architect Ken Pflieger, AIA, began work on the plans in 2018, and a successful capital campaign will see the project break ground around the third quarter of 2021.
Since KMLT purchased the Joy Theater in 2001, it has been the goal to identify those projects which enhance the venue's amenities, improve the patron's experience, and upgrade the technical attributes. Earlier successful projects have replaced the seating and updated the auditorium décor, allowed for the purchase of the adjacent property, and the creation of the Liberty Mountain Garden venue, along with recent renovation of the balcony.
The planned expansion project will bring the 1950's era movie theater up to date for restroom fixtures and accessibility, will enhance the lobby areas for appearance and usability, and will incorporate features compatible with the original art deco design.
The campaign's goal is ambitious, approaching $595,000. However, they have already received initial pledges from local families that are helping make the monumental campaign a reality. KMLT's officers and Board are 100% in support of the project with their pledges.
If you would like to support the capital campaign, consider donating. Various donations levels exist: Partner, $300 per year for 5 years billed at $25/month; Patron, $1,000 per year for five years; Ambassador, $2,000 per year for five years; Founder, $3,000 per year for five years; Benefactor, $5,000 per year for five years; or Naming Opportunity. Contact Jim Champion for details.
KMLT is a tax-exempt, 5019(c)3 non-profit and will provide a receipt for any donation.