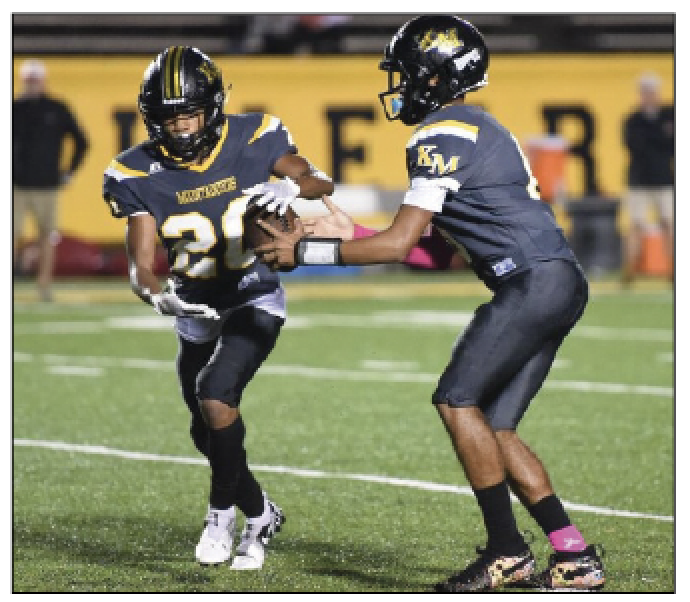 JVs stop Raiders' two-point try
to remain unbeaten in Big South
Their last two games have been nail-biters, but Kings Mountain High's JV Mountaineers are still unbeaten in the Big South Conference following Thursday's 7-6 win over a good South Point team at John Gamble Stadium.
The Mountaineers got by Forestview 6-0 a week earlier on a one-yard sneak by quarterback Kylei Anderson in Gastonia. And they took an early 7-0 lead over South Point Thursday night at John Gamble Stadium but had to stop a two-point conversion try by the Red Raiders for a 7-6 victory.
It was their fifth straight win following an opening-season loss to the Shelby Lions. They travel to Stuart Cramer Thursday for a 7 p.m. kickoff.
The Mountaineers and Red Raiders stopped each other on their first two possessions before the Mountaineers drove 63 yards in 10 plays to score on a 26-yard run around left end by Kameron Adams. Max Thompson's extra point for a 7-0 lead would eventually be the winner.
Along the way, Adams carried the ball four times for 46 yards. Thomas Fair and Zayvion Wilson also had big gains along the way.
Each team got off some good drives during the night but couldn't produce any points because of good defensive stops by the other side.
Curtis Simpson's pass interception gave KM a good scoring opportunity at the South Point 43. The Mountaineers were able to get the ball to the Raider 26 but an incompletion in the end zone gave possession back to the Raiders.
The Raiders were moving late in the second quarter but big defensive plays by CJ Houser and Eli Lipscomb forced them to punt with 29.5 seconds on the clock.
Lipscomb's tackle for loss ended the Raiders' first possession of the third period. A drive kept alive by an 18-yard reception by Ethan Guy and strong running by  Fair, Anderson, Adams and Wilson kept the ball in KM's possession until just 23 seconds remained in the third quarter.
Backed up to their own six yard line, South Point's Chance Ford rambled 42 yards to get the Raiders out of the hole, and six plays later he went 23 yards right through the middle of the KM defense for a touchdown with 6:08 left in the game. The Raiders handed to him again for a two-point conversion attempt but he was smothered by a host of Mountaineer defenders and the score remained 7-6.
Even though that eventually meant a KM win, the Mountaineers still had some shaky moments. Four plays later South Point recovered a fumble at the 50 but the KM defense stiffened and held them on downs at the KM 34. Anderson carried twice for 11 yards and a first down, allowing the Mountaineers to take a knee three times to run out the clock.